Read our comprehensive review to uncover the full range of services, including payment methods, limitations, and customer support, to know if Buran Casino is the right choice for you. With a chic and almost futuristic design, Buran Casino takes your mobile gaming experience to the next level.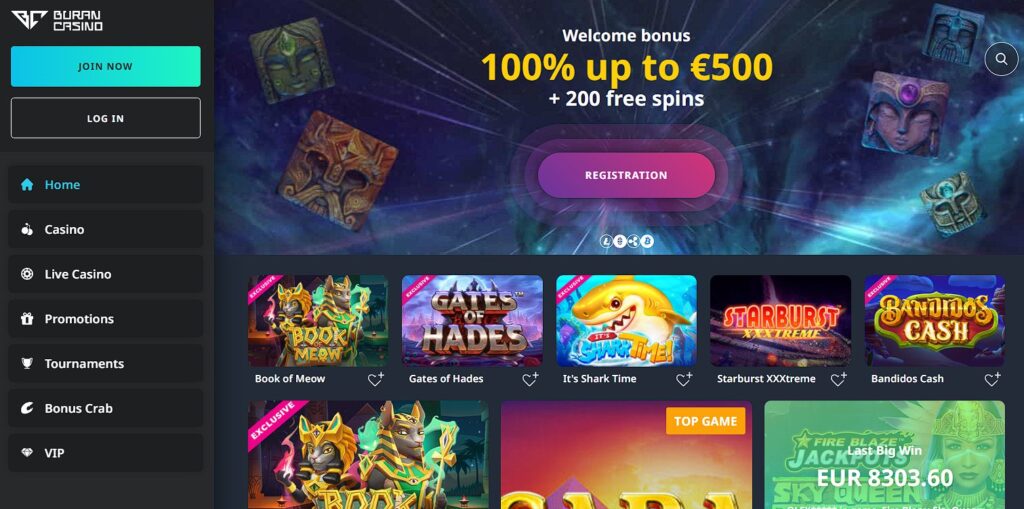 Buran Casino: A Jewel in the Online Casino Galaxy
Buran Casino shines brightly among the constellation of online platforms owned by Araxio Developments. Since its inception, it has carved a niche for itself, earning high ratings from players and critics alike. With its cutting-edge logo and a blend of vivid visual elements, the casino beckons users to a futuristic gaming experience.
But what sets Buran Casino apart from the rest? Let's dive deeper.
First Impressions of Buran Casino
Buran Casino proudly flaunts its Curacao license, opening its doors wide for players in Germany and Austria. Intriguingly, it sidesteps the Australian market, a major hub for gaming enthusiasts. For those in Australia seeking a top-notch Bitcoin casino, Winz Casino might be a worthy alternative, offering a handsome welcome bonus of up to 5 BTC for newcomers.
Other geo-restrictions include the United Kingdom, the USA, Belgium, and the Netherlands. A more exhaustive list is available in our detailed section below.
Exclusive Bonus Offers at Buran Casino
Seize the Buran Bonus! Buran Casino rolls out the red carpet for newcomers with a tantalizing offer: a 100% match bonus up to 500€ and an added 200 free spins. Imagine depositing 100€ and kickstarting your gaming journey with 200€ and those extra spins.
A modest deposit of 20€ is your ticket to this bonus bonanza. The free spins are doled out over ten days in 20-spin packages. However, tread carefully around the wagering requirements: 35x for the bonus and 40x for the spins. Another catch? These conditions apply to the combined amount, effectively making it a 70x wagering requirement.
Despite these stipulations, Buran Casino tempts players with a smorgasbord of promotions, including weekly reload bonuses, cashbacks, and regular free spin events. But, a heads-up for Skrill and Neteller users—you might be sidelined from most of these bonuses.
The VIP Experience: Dive into Elite Rewards
Buran Casino's VIP program may not be the crème de la crème of the industry, but it holds its own. Players embark on their journey as Cadets, with the chance to rise through the ranks to Marshal status. As you climb, the perks only get sweeter—from higher withdrawal limits to increased cashback rewards.
The loyalty points you amass can later be swapped for cash or other goodies. A word to the wise: While it's exciting to climb the VIP ladder, it's essential to strike a balance. Overzealousness can lead to excessive deposits, lured only by the prospect of earning more points.
Games Galore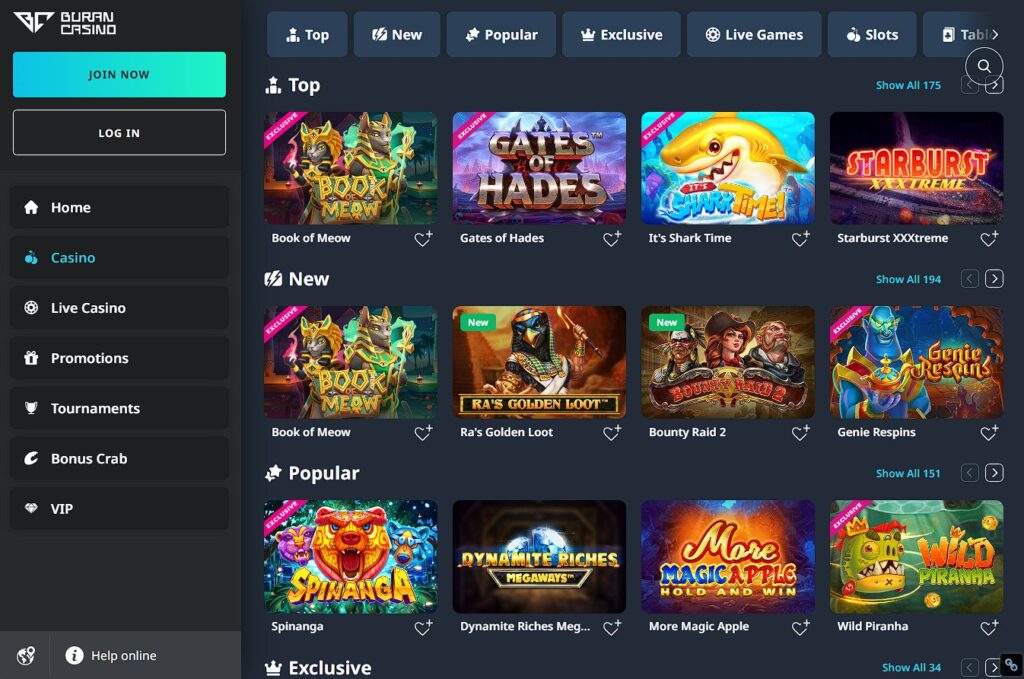 At Buran Casino, immerse yourself in a vast catalog of over 1,900 online casino games. This massive array is curated by some of the top-tier developers globally, including renowned names like NetEnt, Quickspin, Betsoft, Red Tiger Gaming, Pragmatic Play, Yggdrasil, and Play'n GO. For those craving an authentic gaming experience, the live dealer games, courtesy of Evolution Gaming, are sure to entice.
Bitcoin-centric casinos usually have a reputation for excellence in online gaming, and Buran Casino stands as a testament to this. We spent hours engrossed in their offerings, easily losing track of time. Considering we've scrutinized hundreds of casinos and have played thousands of games, for a platform to keep us engaged speaks volumes about its quality.
Game Categories:
Online Slot Machines
Jackpot Slots
Online Roulette
Online Poker
Online Blackjack
Online Baccarat
The extensive game suite is seamlessly accessible across devices, be it mobile or desktop. Whether you're using Android, iOS, Windows, or Mac, or just browsing through different web browsers, Buran Casino promises unhindered gameplay. From classics like Poker, Blackjack, Roulette, Sic Bo, and Craps to a plethora of over 1,500 slot games, and even interactive games like Bingo and Keno, there's no shortage of choices. Navigating through this treasure trove is a breeze, ensuring you can jump to your favorite game without any hassle.
Emulating top-notch modern Bitcoin online casinos, Buran hosts tournaments reminiscent of those at Nomini Casino. Essentially, you can spin your favorite slots, earning extra credits, spins, bonuses, and more. Some of the premier tournaments even award loyalty points. The best part? Participation is free, letting you retain every penny you win. Spin, earn, and risk nothing!
Payment Options
From traditional payment gateways like Visa, Mastercard, Klarna, PaysafeCard, Neteller, and Skrill to a myriad of cryptocurrencies including Bitcoin, Litecoin, Ripple, and Ethereum, Buran Casino has you covered. We especially recommend the crypto methods. Not only are they in line with our crypto-centric orientation, but they also offer swift, secure transactions, with all your winnings accessible within a mere 24 hours.
The promptness of this payment speed remains consistent across all Buran Casino's payment avenues. Using a debit card might entail a slightly longer wait, but this delay is a generic aspect rather than a casino-specific one.
The only real downside when discussing Buran Casino's payments is the withdrawal limit, a topic we will delve deeper into in the next section.
Limitations
While our review of Buran Casino beams with numerous positives, it's essential to shed light on a significant downside: the withdrawal ceiling.
Players face a cap, restricted to withdrawing only 500€ per transaction and a monthly limit of 10,000€. This rule can be a major hindrance for high-rollers and, unfortunately, is consistent across all casinos operated by this esteemed entity.
Is Buran Casino Suitable for High Rollers?
High rollers at Buran Casino can enjoy an elevated withdrawal limit of €20,000 per month if they meet the deposit requirements. However, even this might not suffice for some.
Many high rollers deposit more than €20,000 per month, placing bets of up to €100 on a single spin or card game. Considering this and the fact that 1,000x wins are common, it's entirely plausible to win over €100,000. In such a scenario, you'd have to wait for 5 months to access your winnings, and that's just from a single fortunate spin.
Therefore, our recommendation for high-rollers would lean towards a different casino from our list, especially if you're gunning for big stakes and colossal wins.
Conversely, if you're a low-stakes player, this limitation wouldn't be much of a concern. If you deposit up to €50 at once and bet a few euros per spin, it's unlikely you'll exceed the €10,000 win threshold. Even if you do, it merely means waiting an extra month before claiming your reward.
Player Reviews of Buran
When it comes to reviews, Araxio Casinos typically showcase two constants. First, every negative critique receives an empathetic response from the casino's support team, indicating their commitment to problem resolution. Second, a whopping 90% of negative reviews often bemoan the withdrawal limit – a sentiment we resonate with.
In the case of Buran Casino, many criticisms center around the withdrawal ceiling. However, the casino doesn't respond to such reviews. This silence is regrettable since responsive feedback can display a casino's dedication to customer satisfaction and provides a channel for disgruntled players.
That said, it's not all gloomy skies. Numerous reviews paint Buran Casino in a positive light. Players frequently praise almost every aspect, the withdrawal limit being the sole exception.
Moreover, Buran Casino prides itself on exceptional customer support. Members can swiftly access the support team via a 24/7 live chat feature, which boasts remarkable efficiency and assistance.
Peering into Buran Casino's sidebar reveals a list of current winners. There's also a dedicated section welcoming new members. In the past, we've taken issue with such features, especially when they reveal the complete email username. Considering many players use their email addresses as usernames, this could pose a privacy concern.
Fortunately, Buran Casino sidesteps this pitfall. From our observations, only the first four letters of your username get displayed alongside the precise winning amount. Since the platform doesn't allow usernames with less than four characters and refrains from showcasing personal or sensitive information, we don't see any red flags.
Conclusion on the New Buran Casino
Every time we assess an Araxio Casino, we find ourselves echoing many of the same points. We often laud the enticing bonuses, the expansive game selection, and the stellar customer support. Yet, time and again, we are stung by the withdrawal limit. This sentiment was true for our review of Casinia Casino, which got almost everything right, and Buran Casino is no exception.
We won't belabor the point since we've harped on this issue previously. Suffice to say, if you're depositing more than €200 at once and expect to withdraw significantly more than €10,000 monthly, Buran Casino might not be your best fit.
In such instances, we'd direct you to the myriad other online casinos we've covered. Most of them are more accommodating to high rollers. MELbet, for instance, is a splendid alternative. Although it has some restrictions, they're nowhere near as stringent as those at Buran Casino.